Kids or teens who missed out on being a Little/Big friend in the fall, can sign up to take part in the Project Friend's second semester. Signup is due by January 31st.
For those of you not familiar. . . Southborough Youth and Family Services runs the Project Friend program. The program pairs younger and older "Friends" to help build positive meaningful relationships.
Over the years the program has changed and grown to better fit kids' and mentors' needs and interests. Under the original "Project Friend" program title, K-5th grade Little Friends are currently paired with 7th- 12th grade Big Friends.*
Participants are able to sign up for a full or half year. The next half year session begins in late Feb and runs through May.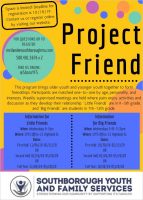 The friends meetup weekly with oversight by Youth and Family Services:
This group utilizes recreational activities to facilitate relationship building between the pairs. "Big Friends" are offered training that focuses on positive youth development, social skills, and how to be a positive role model. The "Little Friends" benefit from the relationship and special undivided attention of their Big Friend, while having the opportunity to interact with their same age peers with that support present.
Gatherings are Wednesday evenings at the South Union Building, 21 Highland Ave.
To sign up or learn more, contact Meaghan (McCarthy) Eiland at 508-481-5676 x 2 or meiland@southboroughma.com.
To register, click here for SYFS' online program registration form.
*There is also a "Project Friend Plus", which pairs grades 6-12 with adults and focuses on community service programs. But that program only offers a full year option.