Earlier this month, the Community Advocate covered public opposition in Westborough to a proposed natural gas pipeline that would start in Southborough. The article focused on a public hearing held in our neighboring town where the pipeline would continue. Eversource's preferred proposed route would run mostly through Westborough, though it would begin on the southside of Southborough.
The story specified:
Eversource's Worcester Feed Line Improvement Project would see the construction of a 16-inch, underground, high-pressure gas main beginning at the intersection of River Street and Southville Road in Southborough, continuing along Southville Road into Flanders Road in Westborough and ending at the intersection of Lyman Street and Route 9. Construction would be expected to start in April 2021 and last two years.
The article noted that Eversource has yet to formally apply for any permits for the proposal. (They planned to begin next month.) But clearly they had started communications in Westborough*. So I followed up to find out more about the status in our town.
According to Eversource's Media Relations Manager, the company has yet to present to any boards or committees in Town. Instead, they invited Southborough abutters to open houses. Reid Lamberty explained:
Residents who live along the project route were notified by mail and invited to come, view maps and meet with the project team to learn about the project and ask questions. . .

We have also met with the Southborough fire and police chiefs, Department of Public Works and an agent for the conservation committee. It is important to note that this proposed project is in its infancy stages, and we will hold additional meetings in the future as the project progresses.
I asked Lamberty for more information on the high pressure line and other lines in town. He confirmed that the proposed pipeline is for regional transmission (not a higher pressure, multi-state transmission line).* The pressure is proposed to operate at 273 psi.
The CA story included Eversource's explanation of the project need:
The purpose of the project, according to Eversource officials, is to improve the operation of an already existing gas line that serves approximately 31,000 customers.

"Without the feed line improvement project, we will lose the ability to serve existing customers and increase capacity in the region," said Sean Lauziere, Eversource's senior community relations and economic development specialist, at the hearing.

"It's not strictly new demand, although new demand is the crux of it. It's also maintaining energy supply to people who are already attached" to the line," he added.
According to the CA, Westborough residents lined up at a Board of Selectmen meeting to voice opposition to the plan. It appears the main objection was its route through a highly populated residential area.
Some pushed for an alternate path along Route 9. According to Eversource reps, Mass Department of Transportation was firmly opposed to that. It appears that so is the Westborough Fire Chief:
Westborough Fire Department Chief Pat Purcell said that he is not comfortable with that option. Running a new 16-inch high-pressure gas line along a 12-inch line already existing on Route 9 would be dangerous, according to Purcell. A disruption involving two high-pressure gas lines would be "catastrophic," said Purcell.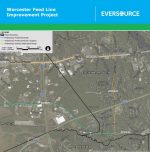 In looking on the Eversource website, it appears that alternate route would also require a lot more of the pipeline to run through Southborough's residential area.
Eversource's "Preliminary Preferred" routes run for a 1.2 mile before crossing over the border to Westborough's back roads. The marked "Preliminary Noticed Alternative Route" would run 2.4 miles along Southborough's Southville Road and Parkerville Road. From there, it would run another 1.4 miles on Route 9 to the Westborough border.
You can read the full article here.
You can also find more project information on Eversource's website here. On the site, an informational flyer notes that anyone with questions can contact Sean Lauziere, Community Relations Specialist at 508-305-6898 or sean.lauziere@eversource.com.
*Updated (3/6/20 8:33 am): Initially, I had written that clearly Eversource had started reaching out to Westborough. A Westborough selectmen notified me that wasn't the case. Allen Edinburg wrote:
Eversource did not reach out to Westborough. We requested an info session that was held in Oct 2019. There was so little info, we (bd of Selectmen) requested the public hearing.
I haven't heard back about how the Town initially learned about the plans.
Edinburg's comments also made me aware that my original wording choice "local distribution line" would be confused with a local service line. The proposed pipeline would transmit gas to Worcester. My point was to differentiate from higher pressure transmission line that feeds across multiple states.
(At the time, I relied on a glossary of pipeline terms that I can't now relocate. It had differentiated service/feeder lines, distribution lines, and transmission lines. Another website I found today defines distribution line as a service line. And its definition of transmission line appears to encompass the proposed line. So, sorry about any confusion I caused.)
The selectman updated that his board had voted on January 28th to file as a former intervener. The message was on January 29th but buried in my Facebook page's message box.