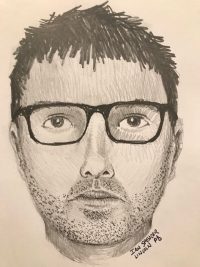 One week ago, I reported that Southborough Police are investigating a complaint that a man allegedly exposed himself to a minor. Now the SPD has asked me to share a sketch rendering plus a video of the car the suspect may have been driving.
Detectives are hoping that the public can provide details leading them to the unidentified suspect.
The SPD posted updates to Facebook on "the incident" along with the visual aids:
We had the victim sit down with a sketch artist from Lincoln PD, and they were able to come up with the following sketch of the possible suspect.
This is a short video clip of the possible, suspect vehicle involved in the incident from last week; in which the driver allegedly exposed himself to a student. The vehicle appears to be a dark colored, 2010- 2014 Subaru Outback; and was operated by a white male, black hair, "scruffy" facial hair, and dark, thick-rimmed glasses. This information has been shared with the Detective network, as well as with our surrounding towns. If anyone has any information on the identity of this individual, you are asked to contact Lt. Ryan Newell or Det. Keith Nichols at (508) 485-2121. Thank you.