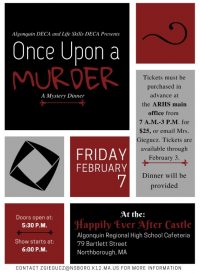 A week from Friday, the community is invited to enjoy a murder mystery. Algonquin Regional High School's DECA club and Life Skills DECA will put on a Mystery Dinner.
"Once Upon a Murder" will take place on Friday, February 7th at 6:00 pm. (Doors open at 5;30 pm.)
The fun will take place in the "Happily Ever After Castle", aka the ARHS cafeteria at 79 Bartlett St, Northborough.
Description:
Presents a Mystery Dinner. Doors open at 5:30 pm, show starts at 6:00 pm.
Tickets are $25 each and cover dinner. Tickets must be purchased by February 3rd – either from the ARHS main office (between 7:00 am and 3:00 pm) or by emailing Mrs. Giegucz. For more information email zgiegucz@nsboro.k12.ma.us.
If you aren't familiar with DECA, the business club "prepares emerging leaders and entrepreneurs in marketing, finance, hospitality and management in high schools and colleges around the globe." That includes regional and international competitions.
The Life Skills chapter is apparently a recently launched chapter for students from special needs programs.A recent Community Advocate story shared:
Thanks to a hard-working teacher, Zbysia Giegucz of Northborough's Algonquin Regional High School (ARHS), the Jan.10 District 7 DECA Conference at the DCU Center in Worcester included a "Life Skills" version of the competition with participants from various schools' special education programs. Thirty-seven DECA Life Skills students, including 11 from ARHS, competed in a business role-playing challenge similar to ones assigned to their peers. Approximately 700 DECA students attended the conference, nearly 200 of them from ARHS.
You can read more about that here. The story includes some behind the scenes details on the upcoming dinner theater:
[Giegucz'] culinary students will prepare the food and both DECA and DECA Life Skills students will participate in all other aspects of the event including acting, advertising, and preparing raffle baskets.