Symphony Pro Musica is continuing its participation in St. Mark's School's Southborough Sounds series.

For this weekend's concert, the 90 member orchestra will play Gustav Mahler's Symphony No. 3. A press release quotes Maestro Mark Churchill as saying:
Due to the forces required, the extended length, and the emotional and technical demands of the music, this work is rarely played. Don't miss this opportunity to experience Mahler's work at its best and most transformational!
This time, instead of one featuring a special guest musician, SPM has invited women and children to give voice to the music: mezzo-soprano soloist Britt Brown, the Symphony Women's Chorus (conducted by Brad Dumont), and the Boston Bilingual Singers children's chorus (directed by Katya Anoshkin).
The press release describes the symphony:
Mahler's 3rd Symphony has six movements, with titles like "What the Flowers in the Meadow Tell Me, What the Animals in the Forest Tell Me," and finally, "What Love Tells Me." Mahler wrote the piece from a simple hut he had built expressly for composing—in a quiet meadow right on the shore of a lake near Salzburg, Austria. He often said that this symphony contains "all of life."
Once again, St. Mark's School will be one of the two venues for each of SPM's concerts this season.* 45 minutes prior to performances, there will be a pre-concert talk. Plus, you can meet the orchestra at a post concert reception.
The Southborough concert will be held on Sunday, February 2nd at 3:30 pm in Class of '45 Hall in the school's Putnam Family Arts Center. (Click here for a map.)
The event is free to students and first time SPM concertgoers. General admission is $25 per adult and $20 per senior. Click here to purchase advance tickets.
The concert is the third of seven in the Southborough Sounds series this school year. You can purchase season tickets for the SS series here. Those will cover the following additional concerts: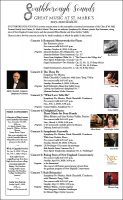 Mar 1 at 3:30 pm – Piano Four Hands with Ellina Blinder and Irina Kotlyar Vulikh
Mar 29 at 3:30 pm – Symphony Pro Musica with pianist Sean Botkin
April 19 at 3:30 pm – Virtuosi of New England Conservatory
May 17 at 3:30 pm – Symphony Pro Musica with cellist Zlatomir Fung
Note: There are also options for purchasing tickets to SPM's full season and separately for the non-SPM portion of the SS series.
*For each of SPM's Sunday afternoon concerts at St. Mark's, there is also a performance at 7:30 pm the evening prior at Hudson High School.
Updated (1/30/19 8:47 am): It occurred to me that some readers might worry about overlap with the Super Bowl. So, I looked up the concert's end time. It runs to 5:30 pm – an hour before kickoff.