Three Neary students are asking the community to:
Help people who do not have enough money to afford clothes for their bodies, school supplies for their education, and toys for their kids.
To that end, they are running a collection drive for Cradles to Crayons through the month of February. They are seeking donations of new and "like new" clothes, toys, and school supplies.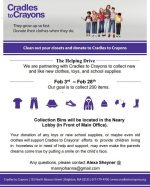 From now until February 28th, collections bins will be located in the Neary School lobby (in front of the main office) at 53 Parkerville Road.
The goal is to collect 200 items. The flyer promotes:
Your donation of any toys or new school supplies, or maybe even old clothes will support Cradles to Crayons' efforts to provide children living in homeless or in need of help and support, may even make the parents dreams come true by putting a smile on the child's face.
The drive is organized by 4th graders Alexa Sheyner, Amna Khan, and Madison Pojani. One of the girls' mothers explained that the drive was the students' own initiative. They are hoping the community can help:
provide someone a better day, a better year, and maybe a better life.
The flyer encourages the public to clean out closets and donate clothes your children have outgrown. But you should note that there are some restrictions on even gently used donations.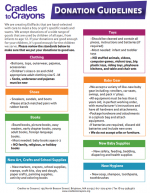 The organizers provided Cradles to Crayons' donation guidelines. It explains:
We accept donations of a wide range of goods that are used by children of all ages, from infants to age 12. If your donations are good enough for your children, it's good enough for the children we serve.
But it also directs donators to check out the detailed requirements (right) to ensure donations can be put to good use.
Categories that can be gently used (clothing, shoes, books, toys, and baby gear) still have some specific restrictions. And some items should only be brand new: baby supplies (safety, feeding, bedding, diapering and health), hygiene items, and art/craft/school supplies. Plus, there are some items that they can't accept.