Here are highlights of what's happening around town this week.
[Note: The highlights don't include ongoing weekly programs. For those listings and more, check the Event Calendar.]
Tuesday, February 11, 2020
Poetry Workshop (6:30 – 8:30 pm) @ Southborough Library, Main Level: At the semi-monthly sessions, Everyone is asked to bring in five copies of their original poetry for supportive feedback. If you don't have a poem, come and share your insights. The group meets the 2nd and 4th Tuesday of every month.
Wednesday, February 12, 2020
Art Quest – Senior spectator opportunity (9:00 – 9:45 am) @ Neary School: The educational art history and appreciation presentation for 4th grade Neary students is also open to six seats for Southborough seniors. If you are interested in attending, please contact the Senior Center's Peg Leonard at 508-229-4453 or pleonard@southboroughma.com. For details, see flyer.
Exciting Women's Circle (Senior Center Program) (11:00 am) @ Southborough Senior Center: A social group for women through the Senior Center. New members always welcome. The group meets monthly, usually at the Senior Center with occasional field trips. This session: More Fun Questions
Movie matinee – Judy (12:30 – 2:30 pm) @ Southborough Senior Center: Free movie screening for seniors. Rated PG-13. Renee Zellweger won an Oscar and Golden Globe for her portrayal of Judy Garland in this biographical drama. Please sign up at the front desk or call (508) 229‐4453. Snacks will be provided.
Bowling for seniors (1:00 – 2:30 pm) @ Sawyer's Bowladrome, 13 Blake Street, Northborough: Southborough Senior Center program put on by the Trailblazers Join other seniors to play a few Strings of candlepin bowling. Please let the front desk know which dates you will attend. Suggested Donation $5. For details, see dedicated post.
SkyRise Children's Theater: Strega Nona (3:45 – 4:45 pm) @ Southborough Library, Children's Room: Children can be part of the theater experience when the book "Strega Nona" by Tomie dePaola is brought to life with SkyRise Children's Theater for children ages 3.5-8 years old. Please register by calling the Children's Room or stopping by the library. This event is sponsored by the Friends of the Southborough Library. For details, see dedicated post.
ARHS Winter Instrumental Concert (7:00 pm) @ Algonquin Regional High School
Thursday, February 13, 2020
Bay Circuit Trail Snowshoe/Winter Hiking (9:30 am) @ Meet at the Senior Center: Program for active seniors organized by the Southborough Senior Center's Trailblazers. Hike or snowshoe about 2 miles on the south section of the trail. Pre-registration is requested. You can stop by the front desk or call 508-229-4453. For details, see dedicated post.
Trottier's Polar Plunge (2:30 – 3:50 pm) @ Trottier Middle School parking lot, 49 Parkerville Rd: The 3rd annual fundraiser for the Special Olympics. Students, faculty (and some special guests from public safety) are invited to take an icy plunge into an inflated pool. For details, see dedicated post.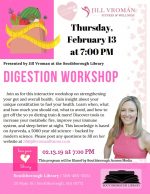 Digestion Workshop (7:00 – 8:30 pm) @ Southborough Library, Main Floor: Join Jill Vroman for this interactive workshop on strengthening your gut health to improve your complete health. Post questions to Jill on her website prior to the workshop at jill@jillvromanfitness.com. For more details on the program, see flyer.
Saturday, February 15, 2020
Read to Furry Animals (10:30 am – 12:00 pm) @ Southborough Library: Kids in grades K-3 can sign up to read to dogs at the library. For details, see dedicated post.
Button Making Saturdays (2:00 – 3:00 pm) @ Southborough Library, Teen Room: Ages 13 & Up – Join us in the new Teen Room Idea Lab for an hour of button making fun. Bring in clip art from an old magazine or design your own image at the "Creation Station" and turn it into wearable art! For details, see dedicated post.