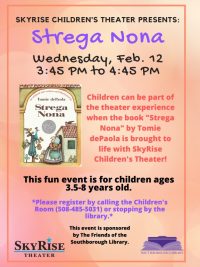 This Wednesday, Skyrise Children's Theater is returning to the Southborough Library.
The Children's Room will host a theatrical "experience" for kids 3½ to 8 years old:
Children can be part of the theater experience when the book "Strega Nona" by Tomie dePaola is brought to life with SkyRise Children's Theater for this fun event!
The event is Wednesday, February 12th at 3:45 pm. Please pre-register by calling the Children's Room (508-485-5031) or stopping by the library.
The free event is sponsored by the Friends of the Southborough Library.
This is the second time the theater company brought interactive theater to the Library.
You can see kids enjoying the Scaredy Squirrel program in November in the Library's Facebook post below:

Updated (2/10/2020 2:01 pm.): I accidentally listed the wrong day of the week in the headline.