The Southborough Library is bringing back the Creature Teachers over February Break. A week from today, the animal wranglers will come in to talk to teach kids about animals from all over the world.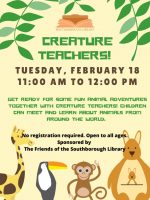 Despite the images on the flyer, don't expect to meet any giraffes or kangaroos at the Library. (The company does have a wallaby, but I doubt he travels to a venue like this one.)
At the past two visits the animal experts made to the Library, the animals they showed off included the scaled species pictured above and below (a snake, a chameleon, and an armadillo):
I don't know who they'll be bringing along this time. (Part of the fun is the surprise.) But their roster of traveling animals does includes some cuter pals.
In my experience, the traveling teacher usually brings at least one of their furry friends, like a ferret, hedgehog, chinchilla, sugar glider woodchuck, skunk, or tarantula. (I know that the spider's hair isn't technically fur. But I couldn't resist including that one on the list!)
Also in their roster are tortoises, frogs, toads, and tropical birds.
The school break event is scheduled for Tuesday, February 18th, 11:00 am to noon. Attendance is free for all ages, no sign up required.
The fun is sponsored by The Friends of the Southborough Library.