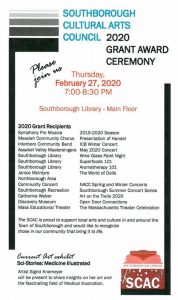 Tomorrow night, the Southborough Cultural Arts Council will hold an awards ceremony at the Southborough Library. The public is invited.
The annual ceremony is to award recipients of grants. The council is responsible for distributing Southborough's share of Mass Cultural Council funds. This year, SCAC is supporting 13 events/projects by 11 recipients. (Click on the flyer right for the list.)
The event takes place on Thursday, February 27th at 7:00 pm. Attendees can congratulate recipients, enjoy refreshments and "share ideas with council members".
There will also be a presentation by artist Sigrid Knemeyer. The artists' scientific illustrations are currently on exhibit at the Library. She "will share insights on her art and the fascinating field of of Medical Illustration."
State Rep Carolyn Dykema and MCC Program Manager Luis Cotto will attend.