The public is invited to attend another concert in St. Mark's School's Southborough Sounds series.
This Sunday's concert features prizewinning pianists Ellina Blinder and Irina Kotlyar Vulikh. The concert is billed as "Delightful Duets: Piano Music for Four Hands".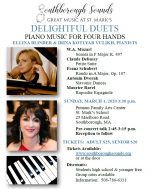 The flyer details that the pianists will perform:
W.A. Mozart – Sonata in F Major K. 497
Claude Debussy – Petite Suite
Franz Schubert – Rondo in A Major, Op. 107
Antonin Dvorak – Slavonic Dances
Maurice Ravel – Rapsodie Espagnole
Tickets for this Sunday's concert (and future concerts in the series) are free to students (high school age and lower). General admission is $25 or $20 for seniors. Tickets may be purchased at the door, or online.
The concert is March 1st in the Putnam Family Arts Building in the Class of '45 Hall.* As with other concerts in the series, the school will host a pre-concert talk by the musicians from 2:45 – 3:15 pm. The concert will take place at 3:30 pm.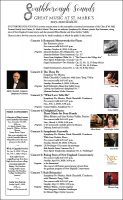 The series is the fourth of seven this school year. Save the dates for the following additional concerts:
Mar 29 at 3:30 pm – Symphony Pro Musica with pianist Sean Botkin
April 19 at 3:30 pm – Virtuosi of New England Conservatory
May 17 at 3:30 pm – Symphony Pro Musica with cellist Zlatomir Fung
For more details on the season, click the flyer right to open the pdf. You can also find details online.
*Directions: At GPS 31 Marlboro Road, enter at the blue sign: "Arts and Athletics Parking". Click here for the campus map.