The Northborough-Southborough public schools district is holding it's "3nd annual Family Math Night".
[Editor's Note: The event is being postponed.]*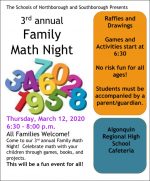 Although it doesn't specify, this again seems to be geared towards families of K-5 students in both towns. (There is no mention of it on the websites for the middle schools or high school.)
The free event invites parents to join them to:
Celebrate math with your children through games, books, and projects.
There will also be raffles and drawings.
The event is this Thursday, March 12th, 6:30 – 8:00 pm in the cafeteria at Algonquin Regional High School, 79 Bartlett St. Students must be accompanied.
For more district resources on how to help your child in math, click here.
Updated (3/9/2020 5:55 pm): I learned that the District has indefinitely postponed Family Math Night. A notice to the lower schools' parents advised:
Due to the current COVID-19 virus status, the District is evaluating all non-essential events being hosted by the District. This evaluation will be done on a weekly basis or as new information evolves. As a result of the present evaluation, the District is postponing the Family Math Night scheduled for Thursday, March 12, 2020.

The safety and well-being of our students, staff, and community are our highest priority. If you have any questions, please reach out to the building principal or Mary Ellen Duggan, District Wellness Coordinator.