The Southborough Library is holding its second, monthly brown bag lunch series. Each "Meet & Eat" will feature a brief presentation followed by discussion over lunch.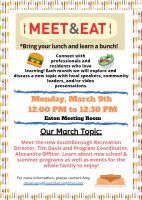 Maybe you're tired of eating alone at your desk/staff room. Or maybe lunch for you is generally alone at home. Either way, the Library is encouraging you to bring your lunch to the Library this Monday:
Bring your lunch and learn a bunch! Connect with professionals and residents each month who love learning as we explore and discuss a new topic with local speakers, community leaders and/or video presentations.
To make this work for people who work, the event is only 30 minutes (12:00 – 12:30 pm). Today, Monday, March 9th, Southborough Recreation staff will talk about their new programs and events. Join them "to learn about new school & summer programs as well as events for the whole family to enjoy."