Whether your connection to youth is personal or professional, you are invited to take part in a training program next month. The 8¼ hour course is only $10.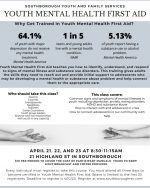 Southborough Youth and Family Services is putting on this round of Youth Mental Health First Aid training. It will be held during the public schools' spring break. The program will be split over three mornings. The program will cover:
Common signs and symptoms of mental illnesses in youth including depression, anxiety, eating disorders, ADHD and substance abuse
How to interact with and adolescent in crisis
How to connect adolescents in our community with help
The flyer encourages people who work with youth (teachers, coaches, counselors, etc.) along with parents, grandparents, and even neighbors. "Anyone who has relationships with youth in any capacity."
The training will take place in town, Monday, April 21st to Wednesday April 23rd from 8:30 – 11:15 am. Participants need to pre-register by April 10th and the class is capped at 30. The $10 registration fee covers all materials (plus a light breakfast and coffee each morning).
Click here to register through Southborough Recreation.