[Editor's Note: The event is one more cancellation due to fears of Coronavirus.]
Whether you love to cook or just love to eat, St. Mark's Episcopal Church is hoping you'll participate in a special event this month.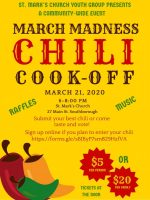 The Youth Group is holding a Chili Cook-Off timed for March Madness:
come to our Community-wide March Madness Chili Cook-Off on Saturday, March 21st at 6pm! All proceeds help support St. Mark's Youth Group Summer Mission!

Make your best chili, and have some fun! Categories include:

Best Beef Chili
Best Chicken Chili
Best Vegetarian Chili
Spiciest Chili
Best Overall

You can also just come to [taste] and vote! There'll be music, raffles, and other fun! Cost is $5 per person or $20 per family!

Want to enter your prize-winning chili? Sign up online!
To enter the contest, sign up here. To attend, save the date.
[Editor's Note: I confirmed this morning that the event is still a go for now. If anything changes, I'll update this post. You can also check on the church's Facebook event and page for updates.]
Updated (3/11/20 4:05 pm): I was informed that the Chili Cook-Off is off. Organizers had still been planning to hold it as of yesterday afternoon. Today, they learned that the Bishop of the Episcopal Diocese announced that all food gatherings in the church would have to be cancelled or postponed.