It doesn't feel much like a day to fool around. But we all need some fun in our lives. Southborough Kindergroup is trying to help organize that for families keeping their young ones at home.
Obviously, the cooperative playgroup isn't able to gather these days. So, they came up with some other activities for fun and their sharing it with the community.
Activities include a socially distant egg hunt in town, some special virtual storytimes, cupcake decorating, "bear hunting", and ideas for adding a little variety to your daily routines.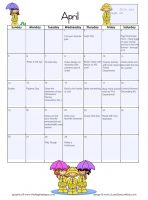 An April calendar (right) starts off with an easy one for today, April 1st, "Tell your favorite joke".
Here's the announcement with more highlights:
Southborough Kindergroup invites you to participate in social distancing community activities for the month of April. We have put together a list of activities for your family to do and feel a sense of community. Other communities have organized some of these and have had great success. We have created a new Facebook group: Southborough Community Outreach sponsored by Kindergroup. Feel free to join if you want to post pictures of your family doing the activities, to share fun ideas with others, and to keep up with updated event details.

A few events that should be highlighted are (you do not need to be on the Facebook page to participate):

April 4th -12th – Hang egg(s) outside of your house and go on a scavenger hunt around town to see how many you can find. Also, see if you can find the Bunny on someone's porch in town!
April 10th – Southborough's Police Chief, Kenneth Paulhus, will be reading The Day the Crayons Quit (this will be available on the Southborough Community Outreach Facebook page).
April 17th – Southborough's Fire Chief, Steven Achilles, will read We are Going on a Bear Hunt (will be available online). Then put those teddy bears outside and go for a bear hunt yourself (in the car!). The more bears that are out, the more fun!
April 18th – Cupcake decorating contest brought to you by Yummy Mummy! If you are interested in participating, please email kindergroup.president@gmail.com by 10AM on 4/15 to place your order. $20 for 3 vanilla & 3 chocolate cupcakes plus frosting and sprinkles.
April 25th – Southborough children's author, Sue Wambolt, will be reading Pete the Hungry Pig.

Here are some fun ideas for the whole month:

We are very fortunate to have a lot of trails and open space in Southborough. Thank you to the trails committee and town residents who keep up with the maintenance of them! Throughout the month of April, be on the lookout for painted rocks as you are walking the trails. And please feel free to paint your own and leave them for others to find! Please do not touch them but we would love to see your pictures of them. Here is a link to the trails in town: https://www.southboroughtown.com/sites/southboroughma/files/pages/southborough_all_trails_map_v4_12.02.18_0.pdf
Have a birthday coming up? Feel free to email kindergroup.president@gmail.com if you would like a family to stand on your lawn and sing Happy Birthday!
Hang something red outside your house (bow, ribbons, hearts) to show support for health care workers.
If you have not already, participate in the Southborough Front Steps Photo Project. Chelsea Bradway is doing a fantastic job in making it happen!

We hope you enjoy these activities and that they provide you a sense of community with Southborough, your neighbors, and friends. If you have any additional ideas, please reach out. Finally, thank you to all of the first responders, nurses, doctors, hospital employees, delivery drivers, grocery workers, and restaurants who are doing everything they can to keep us safe and are providing us with the essentials.