A few weeks ago, I posted what restaurants have continued to offer pickup and delivery service.** I'm overdue in sharing news on Southborough food markets.
While we don't have any supermarkets in town, we do have convenience stores and other food retailers. Most of the markets are still open.* One has added a new delivery service. And another business that wasn't a market has changed its business model to offer that service.
Below are the details.
Convenience, liquor, and/or pharmacies still open for regular business:
Bill's Liquors (7 Turnpike Rd)
Cumberland Farms (365 Turnpike Road)
Fitzgerald's General Store (110 Southville Road)
Mauro's Market (4 Main Street)
Sperry's Liquor & Market (205 Turnpike Rd)
Stony Brook Market (162 Cordaville Road)
Turnpike Wine & Liquor (65 Turnpike Rd)
Walgreens (78 Turnpike Rd)
Businesses with special offerings during this state of emergency:
Contact-free Curbside delivery of groceries
The farm stand is being offered through online ordering and curbside pickup. Orders are due by Thursday noon each week for pickup on Saturday between 10:00 am and noon. You can order farm produce, dairy, meat, and/or prepared items like pesto, maple syrup, and ice cream. They're also selling some veggie and herb seedlings. Click here to shop. (You'll need to create an account and password if you don't have one. But it doesn't require becoming a member.)
Red Barn Coffee Café (Rte 9 West location, 205 Turnpike Rd)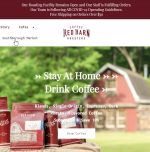 Both Southborough cafes were temporarily closed. Starting tomorrow morning, the owners are using one of the locations as the hub for a new curbside delivery market. Along with the cafe's usual baked goods, they'll sell "essential groceries and provisions". The cafe's doors will remain closed to the public, with contact-free pickup offered Monday – Saturday from 9:00 am – 3:00 pm. "Items include fresh fruits and vegetables, eggs, milk, flour, chicken, bacon, bread, English muffins, pasta, 88 Acres bars…, as well as freshly baked coffee cakes, muffin tops, cookies, and of course freshly roasted Red Barn coffee in 12 ounce retail bags to brew at home, half gallons of cold brew iced coffee, and freshly brewed java jugs and Nitro cans/cases."
To order items, visit redbarncoffee.com and click on the Southborough Market tab. You can also place orders on the phone beginning at 8:30 am tomorrow.
Did I miss anyone? Post a comment or email me at mysouthborough@gmail.com.
*Nothing much seems to have changed on the restaurant front since my March 24th update.
**Note: The only Southborough food/liquor market that I found is closed is the Vin Bin (though its Marlborough location is open).
Updated (11/25/20 11:31 am) Red Barn Coffee has since sold its locations to NY Bagel Company. I added Bill's Liquor to the list of open markets.