A week from Sunday, the Southborough Neighbors for Peace is holding a "Candlelight Vigil for Peace and Racial Justice".
The event won't be held sooner to allow participants in other local events this weekend to participate in Southborough's as well. (Scroll down for info on this weekend's nearby events.)
The Southborough vigil details are below:
Southborough Neighbors for Peace

Candlelight Vigil for Peace and Racial Justice

Sunday, June 14 at 7pm
St. Mark's School Field — Rts. 85 & 30

Southborough Neighbors for Peace are inviting the public to:

Join with neighbors to stand for peace and racial justice in our community, our nation, and our world.

The Vigil will include:

Nearly 9 minutes of silence in memory of George Floyd.
Reflections from town officials, and area residents.
Candle lighting (Please bring a candle).

Important Note: Please wear a mask and practice physical distancing while participating in the Vigil.

Bring homemade signs and posters to reflect your desire for peace in our world.

Together we can make a difference in our world to root out the pain and injustice of racism, and fully become those who respect the dignity of every other person.

ALL ARE WELCOME AND ENCOURAGED TO ATTEND
I found information online about two local events this weekend. Feel free to share info on others in the comments:
Northborough
"Peaceful Black Lives Matter Demonstration" – RSVP requested
A Google doc circulating on Facebook shares the info on this event, which had a time change due to weather forecasts:
We are holding a peaceful event to commemorate the lives lost to police brutality on Saturday, June 6th, from 10:00 AM to 12:00 PM at Northborough Town Commons (45 W Main St, Northborough, MA 01532). All of those attending MUST WEAR A FACE MASK. Please bring WATER as it will be hot and follow the social distancing measures we put in place or you will be asked to leave. Feel free to bring a sign if you feel moved to do so.
Westborough
"Anti-racism solidarity vigil"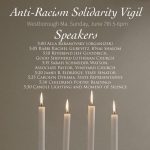 A Facebook event for the Sunday, June 7 vigil from 5:00 – 7:00 pm doesn't call for pre-registration:
Join us for a peaceful, socially distant vigil in solidarity with People of Color. We will acknowledge and mourn those impacted by police brutality and racism. Bring your family and friends. Wear a mask, and be safe! There is strength in numbers!
The event will be staged at the Bay State Commons, 1100 Union Street, Westborough. Speakers are listed beginning at 5:00 pm. Children's Poetry Readings are at 5:30 pm followed by a Candlelighting and Moment of Silence.
You can find more details on the currently scheduled speakers in the image above right. (It has prompted an interesting back and forth in the event comments as organizers have apparently not had success in finding "speakers of color" to participate.)