As of yesterday, one Southborough resident is reported to have succumbed to Covid-19. The Town's information page shows new statistics "as of June 24, 2020". One death is now listed.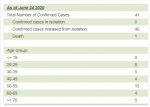 The information shared by public health does not include personal information for privacy reasons. (If I do learn who the resident was, I will only share his/her name if the family chooses to make that public.)
While the news is sad, the town's pandemic numbers remain relatively low.
Only 41 residents of Southborough have been confirmed as infected during the pandemic. The deceased had been one of only two residents confirmed as infected and in isolation since early this month. No new infections have been reported since June 6th.
As of this morning, the other patient that had been in isolation in recent weeks was listed as released.
According to the state's weekly report, Southborough has an infection rate of 421.69 per 100,000 residents—much lower than all of our directly neighboring Towns. Southborough is currently in the lower half of infection rates for the state. (It's the 109th lowest out of 351 listed cities and towns.)
743 residents have been reported as tested with 5.52% confirmed infected. (That's the 105th lowest out of 351 cities/towns.) The infection rate average for the state is 13%.