This summer, the Southborough Library will be hosting two yoga sessions for preschoolers. Like most of the Library's offerings these days, the events will be held online.
Sessions will be held over zoom at 9:30 am on Wednesdays, July 15th and 29th.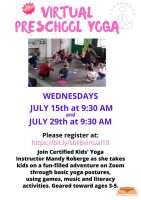 The Library pitches:
Join Certified Kids' Yoga Instructor Mandy Roberge as she takes kids on a fun-filled adventure on Zoom through basic yoga postures, using games, music and literacy activities. Geared towards ages 3-5.
Families are asked to pre-register through the Southborough Rec website here.