Since the Southborough Senior Center can't invite in seniors to enjoy special programs this summer, they looked for other ways to reach their audience. Thanks to Southborough Access Media's public access channel, seniors can watch seven planned programs from home.
The Senior Center's summer newsletter lists the programs and schedule for a nutrition series, a legal series, a special sing-along, and a presentation on the impact of LED lighting on the night sky. Programs will be run on the public access channel (Verizon FIOS Channel 38 and Charter Channel 191) several times weekly in August.
Here are the details:
[Editor's Note as of August 10th: There have been some programming glitches. The planned schedule hasn't completely rolled out yet. Scroll down for details.*]
Nutrition Series -Making Your Produce Last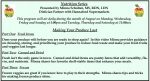 Airing in August on Mondays, Wednesdays, Fridays and Sundays at 5:00 pm and Tuesdays, Thursdays and Saturdays at 11:00 am.
Presented by Minna Scholten, MS, RDN, LDN, Dietician Partner with Hannaford Supermarkets
Part One: Fresh Items
Does your produce wilt before you are ready to shop again? In this video Minna provides guidance on choosing, storing, and prioritizing your produce to reduce food waste and make your fresh fruits and veggies last longer.
Part Two: Canned and Dried
Fresh isn't the only game in town. Canned and dried items are pantry heros that add versatility, flavor, and nutrients. Minna shares her favorite shelf-stable items that enhance your meals.
Part Three: Frozen
Frozen veggies are great if you know how to play to their strengths. Minna shares tips and tricks for making frozen produce shine.
Mirick O'Connell Legal Clinics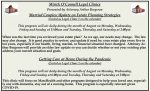 Presented by Attorney Arthur Bergeron
Married Couples: Update on Estate Planning Strategies
Airing in August on Mondays, Wednesdays, Fridays and Sundays at 11:00 am and Tuesdays, Thursdays and Saturdays at 2:00 pm.
When was the last time you reviewed your estate plan? As we age, our needs may change. The law may also change. It is good practice to review, and update if need be, your estate plan every five to
ten years, especially if our health, living, marital, or financial situation have changed. Attorney Arthur Bergeron will provide an elder law update so you can decide whether or not your existing plan address your current situation and goals.
Getting Care at Home During the Pandemic
Airing in August on Mondays, Wednesdays, Fridays and Sundays at 6:00 pm and Tuesdays, Thursdays and Saturdays at 3:00 pm.
This clinic will focus on MassHealth and other programs designed to help your loved one, especially one with dementia, stay out of a nursing home. This program is especially relevant given COVID-19.
Old Time Sing-Alongs
With Roger Tincknell, Singer, Yodeler, Multi-Instrumentalist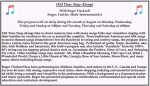 Airing in August on Mondays, Wednesdays, Fridays and Sundays at 1:00 pm and Tuesdays, Thursdays and Saturdays at 4:00 pm.
Old Time Sing-Alongs take us down memory lane with many songs folks may remember singing with their families on vacation in the car or around the campfire. From traditional American and folk songs to movie themed songs (Somewhere Over the Rainbow) to swing and cowboy songs, the program draws from a variety styles found in the great American song bag. Performed on guitar, banjo, mandolin, ukulele, Irish Bodhran and harmonics, this festive program may also include "standards" from the 1930's40's swing era; toe tapping period classics such as, Accentuate the Positive, Glory of Love, and Swinging On a Star. Other familiar songs may include: Oh, What a Beautiful Morning, Old Cape Cod, What a Wonderful World, Dream a Little Dream of Me, Georgia, Rose of San Antone, Moon River, and many many others including Banjo songs.
Roger Tincknell has been performing for children, families, and seniors in the U.S., Canada and Europe for over 40 years. His strong, expressive vocal styles, show stopping yodeling and masterful instrumental skills bring a warmth and versatility to his performances. With a background as a classroom teacher and music specialist, Roger has pioneered programs in multicultural, environmental and special needs education and curriculum development.
Losing the Sky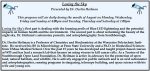 Presented by Dr. Destin Heilman
Airing in August on Mondays, Wednesdays, Fridays and Sundays at 4:00 pm and Tuesdays, Thursdays and Saturdays at 1:00 pm.
Losing the Sky's first part is dealing with the looming perils of Blue LED lightening and the potential impacts on human health and the environment. The second part is about reclaiming the beauty of the night sky, Dr. Heilman's astronomy pursuits, and astrophotography from Southborough.
Dr. Destin Heilman is a Professor of Chemistry and Biochemistry at the Worcester Polytechnic Institute. He received his BS in Microbiology at Penn State University and a Ph.D. in Biomedical Sciences from UMass Medical School. Over the past 15 years he has developed and taught project-based courses at WPI and has lead a research lab that focuses on using viruses to kill cancer cells. As a Trustee of the Southborough Open Land Foundation, Dr. Heilman is active in advocacy for the protection of open land, natural habitats, and wildlife. He is actively engaged in public outreach and is an avid astronomer and astrophotographer, running programs in stargazing, telescope building, and space science with his wife and young son.
Updated (8/10/20 8:50 am): SAM ran into some technical difficulties with some of the programming. The rollout of the full schedule was delayed. As of the morning of August 10th, I see that the Sing-alongs and Losing the Sky are now on schedule. I'm waiting on an update on the other programs.