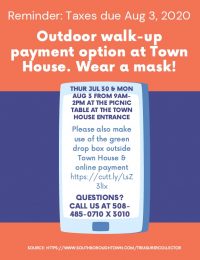 Reminder: This Monday, August 3rd, is the last day to pay your Town taxes on time.
As always, you can pay your bills online or drop off payments in the green mailbox outside the Town House. But there's also a third option.
To make it easier for those used to paying in person, the Town is offering a way to pay at the Town House. (Just not inside it.)
The walk-up option will be offered at the picnic tables outside of the Town House entrance. The limited hours are tomorrow, Thursday, July 30th and Monday, August 3rd between 9:00 am and 2:00 pm.
Please, remember to wear a mask!