The Southborough Community Fund has opened its next round of grants. SCF is looking to "fund projects that bring innovative thinking to big issues and small ones – for the benefit of Southborough."
Available grants range from $1,000 to $10,000. (Though, larger grants "may be considered on a case-by-case basis for projects of exceptional merit.")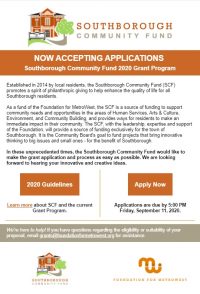 Applications are due on September 11th. That may sound like a challenging deadline to meet, but SCF is promoting that applying is easy this year:
In these unprecedented times, the Southborough Community Fund would like to make the grant application and process as easy as possible. We are looking forward to hearing your innovative and creative ideas.
For those of you unfamiliar, SCF is a fund of the Foundation for MetroWest.
The board is seeking to support community needs in the following areas:
Human Services: To support families, youth, seniors, and underserved populations in creating pathways that improve overall quality of life.
Arts & Culture: To support the cultural vitality of the Southborough community, including the visual arts, the performing arts, and historic preservation.
Environment: To preserve Southborough's natural resources and to increase environmental awareness, education, and engagement.
Community Building: To support increased volunteerism and community involvement, to strengthen civic engagement, and to emphasize collaborations that enhance community initiatives.
Towards those goals, SCF grants can be used for programming or for "capacity-building efforts". To be eligible for applications, programs must "wholly or predominantly" serve Southborough residents.
Applicants must be a registered 501(c)(3) nonprofit organization OR have an eligible fiscal sponsor OR be a Town of Southborough department, board, or commission. (Two exceptions that aren't eligible at this time are Southborough schools and organized youth sports programs.)
As part of the application process, the board will encourage "open dialogue and active brainstorming" between applicants and the board to "ensure projects and solutions are innovative and comprehensive".
Prior to applying, you can reach out for help:
We're here to help! If you have questions regarding the eligibility or suitability of your proposal, email grants@foundationformetrowest.org for assistance.
For the 2020 application guidelines and schedule, click here. For the application due September 11th by 5:00 pm, click here. To learn more about SCF, click here.