Next week, the Southborough Library will be hosting another preschool yoga session led by Mandy Roberge. The difference with this one is it's a live in-person event.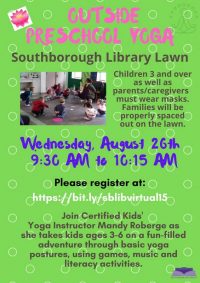 The free yoga sessions will be held on the Library's lawn on Wednesdays, August 26th from 9:30 am – 10:15 am.
The Library pitches:
Join Certified Kids' Yoga Instructor Mandy Roberge as she takes through basic yoga postures, using games, music and literacy activities. Geared towards ages 3-6.
For safety, families will be properly spaced out on the lawn. Children 3 and over, plus their parents/caregivers, must wear masks.
Attendees are asked to pre-register through the Southborough Rec website here.