This week, you may have seen or heard calls for voters to cast early ballots now in the Presidential Election. In Massachusetts, it's not time to do that yet. But early voting is in process for the State Primary. You can see the details on voting by mail, or on September 1st, in my post from earlier this week.
For those who want to head to the polls early, that opportunity starts tomorrow. Here is a reminder of those details.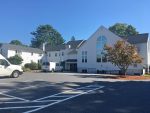 Southborough is holding early primary voting at the Southborough Senior Center starting this Saturday, August 22nd through Friday, August 28th. The hours are 10:00 am – 4:00 pm. Voters will be directed to the back entrance of Cordaville Hall.
Tomorrow is also the deadline for registering or changing your party enrollment. To allow for that the Town Clerk's office (at the Town House) will be open from 2:00 to 4:00 pm and 7:00 to 8:00 pm.
For information on who is running in the primaries, see my more detailed post from Monday.
Updated (8/24/2020 8:06 am): A commenter pointed out a typo. I had written that early voting ends on Friday the 24th instead of the 28th.