The Southborough Senior Center is holding more programs for current members of Friends of the Council on Aging.* This month, programs include ones conducted over zoom. In this post, I'll focus on a free one that should tickle the fancy of nostalgic seniors.
Those of you that miss the sing alongs that the Senior Center used to host regularly will want to sign up for "Elvis to the Everly Brothers".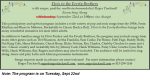 Roger Tincknell (singer, yodeler, and multi-instrumentalist) will lead the sing along over zoom on Tuesday, September 22nd at 3:00 pm. Music will cover Rhythm and Blues, Motown, Rockabilly, and Classic Rock n Roll. Beyond Elvis Presley and the Everly Brothers, the promo mentions a long list of "greats" with pop and rock songs in the 1950s. (See promo right from the Senior Center's newsletter.)
Tincknell also welcomes song requests in advance. (You can contact him at roger@rogertincknell.com or 413-259-1146.)
To register for the program, don't contact Roger. To sign up, call the Southborough Senior Center at 508-229-4453. (Registration opened yesterday morning.)
Last month, Tincknell recorded a video for the the Senior Center and Southborough Access Media to encourage senior sing alongs. That one definitely didn't have a 50's rock vibe.
The focus of that "Old Time Sing-Along" (embedded below) was traditional American and folk songs from the 30's and 40's.

*The Senior Center newsletter explains that they can only take registrations from current members of Friends of COA. They won't begin accepting new members until October. (See blurb right from the newsletter.)
Updated (9/9/20 11:53 am): I fixed a typo referring to Tincknell as a "godeler" instead of yodeler!. I also added more information, including how to register for the program.