Another annual fundraiser is going virtual this fall. Rather than cancelling its Children of Promise Gala, The New England Center for Children is promoting it as an at home program.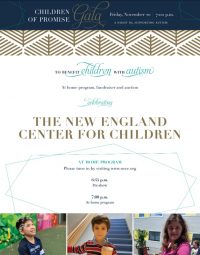 The fundraiser is "to support research and education to help thousands of children with autism throughout New England and the world."
As most readers should know, the autism institute is headquartered in Southborough with residential and day school students. You may not be aware of it's global reach. To learn more about that (and recent news on that front), scroll down.
As for the gala, the 5th annual event will take place on Friday November 20. It's pitched as an at home program, fundraiser, and auction to benefit children with autism and celebrate NECC.
Beginning at 6:45 pm, registered guests can tune in to a brief pre-show followed by an "uplifting" program at 7:00 pm. Registration for the event is free, though they will be looking for bids on auction items and encouraging donations:
The staff and students at The New England Center for Children continue to thrive and move forward during these challenging times. A donation to NECC helps to support crucial resources including technology, physical adaptive equipment, personal protective equipment, community enrichment, research and much more!
You can find participation details here.
Leading up to the gala, NECC is still welcoming more sponsors to join those already supporting the evening. (Learn more here.)
What NECC means by helping "children around the world":
NECC boasts of consultation services to more than 70 schools, and educational programs for individual students around the world including in Bermuda, London, Qatar, Abu Dhabi, Kuwait, Dubai and India. The institute also has a second day school, located in Abu Dhabi. This month, they finalized an agreement to expand that school and add 77 new students, bringing the total to close to 300 students at that facility.
More than 4,600 students at NECC and in public school districts and agencies around the world currently use a specialized software developed at NECC, the Autism Curriculum Encyclopedia.