A Southborough Girl Scout troop is running a collection drive for Abby's House in Worcester. They will be collecting cleaning supplies, kitchenware supplies and more.
The girls are also looking to raise funds for the home and awareness about some of the issues behind the need for the non-profit.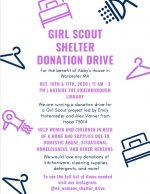 On instagram, organizers described Abby's House as a nonprofit group:
dedicated to protecting and housing women and children that have nowhere else to turn, for many reasons including escape from domestic abuse, homelessness, or any other reasons that has resulted in the need for protection and housing.
The girls followed:
We are also advocating for the atrocity that is domestic violence and how it affects people's lives by sharing information and facts about this issue and other major issues women are face with. We would love your support and your donations, and anything you contribute is greatly appreciated by both us and all of the women at Abby's House.
The drive will be held on Saturdays October 10th and 17th, from 11:00 am – 2:00 pm, outside the Southborough Library. While any contributions are welcome, the girls posted lists to instagram of the items especially needed. You can open those images below:
The drive is led by Emily Hinterneder and Alex Varner from troop 75014. For an update and other details, you can check out their instagram @ea_womens_shelter_drive.