The Board of Selectmen and the Southborough Golf Club management company are again partnering to support ALS research and care.
The fundraiser has significant meaning for the Town and those involved with the golf course. Two Town officials, men deeply involved in "saving" the course*, both succumbed to ALS last year: John Wilson and Brian Shifrin.
When a Heritage Day weekend fundraiser was announced by Selectman Brian Shea last October, he said that he hoped it would become an annual event. This week, he informed me that they will proceed with a fundraiser next month. Shea wrote that while the pandemic has prevented other Heritage Day activities, this event is one they can still proceed with.
The ALS One fundraiser will take place from Saturday, October 10 through Monday, October 12. Shea invites:
All are welcome, and we hope the weather cooperates to help with a fun weekend of golf. ALS ONE is a cause that is dear to the Board having lost both Brian Shiffrin and John Wilson to this disease, and we encourage all to be as generous as they are able.
In addition to helping support the cause, golfers can enjoy special activities. The management company will be sponsoring contests with prizes (closest to the pin and long drive) .
Here are more details:
A round of golf will be $5, and we suggest that participants make a minimum donation of the balance of the normal greens fee charges to ALS ONE. Other donations above this are encouraged. Information on how to make the donations will be available at the clubhouse.
Normally, the weekend greens fees in the fall is $22 (or $20 for seniors 60+ or juniors 17 and younger), and $2 less on weekdays. Paying the regular amount (above the $5 per round) would mean donating about 75% to ALS One.
Between increased use of the golf course this year and pandemic guidelines, the public is asked to book their tee times in advance. You can do that by calling 508-460-0946.
Participants are "respectfully" asked to comply with the golf course's Covid-19 safety procedures.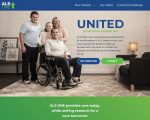 As for the charity the fundraiser supports, the non-profit ALS ONE describes itself as:
an unprecedented partnership of world leaders in ALS research and care who have joined forces to help cut bureaucratic red tape to combat the disease more efficiently and effectively for all.
(Looking for updated information on the charity, I found that its website was featuring Brian Shifrin and his family. You can see that image above right.)
*You can read more about Wilson's and Shifrin's roles in relation to the golf course in my 2019 post.