Last year, I shared news on DCR opening some of its grounds to deer hunting. This year's season is about to open, and there's a special day for it this weekend. So, it's a good time to alert readers on the situation in town.
Hunting isn't allowed on Town owned open spaces and trails. But it is allowed in some of the parcels around the Sudbury Reservoir in Town owned by the state's Dept of Conservation and Recreation.
It's allowed on private property with the owners' written permission. For instance, Southborough Open Land Foundation does allow some selective bow hunting on certain areas of Beals Preserve. The hunting is meant to be in areas away from the trails. But to be safe, they always post warning signs to for visitors to wear bright colors during hunting season.
I'd say that whatever trails you pursue, bright clothing in the fall is probably a good idea.
This Saturday, October 3rd, is a special one day Youth Deer Hunt day. The event follows the "shotgun season" rules, but is open only to licensed minors accompanied by adults. (Click here for more details.)
There's no hunting this Sunday, but Monday, October 5th is the kickoff to archery season for most of Southborough. More parcels open on the 19th.
The image below right shows the DCR parcels in town that will be open to hunting in solid green. (Sections that are red or where green is covered in black crosshatches are off limits for hunting.). It also marks the boundary between zone 9 and 10.
The season dates for 2020 are as follows: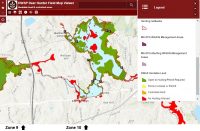 Archery Season (Zones 10 – 14): Oct. 5 – Nov. 28
Archery Season (Zones 1 – 9): Oct. 19 – Nov. 28
Shotgun Season: Nov. 30 – Dec. 12 (also allows archery and primitive firearms)
Primitive Firearms Season: Dec. 14 – Dec. 31 (allows archery and primitive firearms)
For the interactive map, click here.
Last year, some commenters asserted that the Town prohibits the uses of firearms in town. But that appeared to be a misconception. A search of the Town Code doesn't bring up any restrictions on guns or weapons. (In 2013, I shared a warning from police when shotgun season opened. The message referenced calls they would get each year from residents concerned by hearing guns fired.)
That doesn't mean there aren't any restrictions. A state law prohibits discharging a firearm within 500 feet "of a dwelling or other building in use, except with the consent of the owner or legal occupant thereof". (There are some exceptions to that rule, but hunting isn't one of them.) The dwelling distance was used to determine the crosshatched areas on DCR's map.
For more details on DCR's decision to open up hunting around the reservoir, you can read last year's post.
[Editor's Note: Thank you to DCR for alerting the Trails Committee about hunting on their land and the Trails Committee for sharing the news with me.]
Updated (10/1/20 5:43 pm): I had forgotten to include the link to the interactive map. You can find that here.
Updated (10/2/20 8:09 am): For anyone questioning the reasons behind allowing deer hunting, the Sudbury Valley Trustees posted:
Wildlife habitat in SVT's service area is threatened by growing deer populations. SVT has identified deer management as a high-priority issue because of the high deer density in our region and the negative impact deer are having on our forests.
You can read more about why they support managing the deer population here.