A few weeks ago, I shared news on this year's drive for Southborough Youth & Family Services' Holiday Giving Program to support residents in need. Now, I'm noting an important deadline for those looking for assistance.
Apparently, the deadline for applications was tomorrow, Friday, October 30th. (That deadline wasn't in my initial post.) SYFS tells me they can accept applications for a few days past that. But they do need to hear from people ASAP.
If you would like to apply for assistance, or have questions, please call Christina at 508-481-5676 or email cmccarthy@southboroughma.com.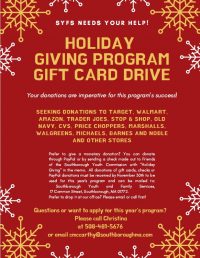 As for the public looking to support the annual drive, contributions will be accepted through the end of November.
This year, SYFS is working to organize the program to provide assistance a bit earlier than usual.
One reason is to help people who may not feel safe hitting the stores during busy days of the holiday shopping season. That's why SYFS is looking to collect and distribute gift cards early. (That will enable families to order items that require time for shipping.)
The second reason is the financial crisis. They believe more families may be in need of the service this year.
In addition, many families that traditionally generously supported the program may have trouble affording that this year.
For those of you who would like to support the effort, please donate by November 30th.
Payments can be made to Friends of the Southborough Youth Commission with "Holiday Giving" in the memo/note field. Donate via PayPal or by mailing/dropping off a check care of Southborough Youth & Family Services.
Examples of welcome gift cards are Target, Walmart, Amazon, Trader Joes, Stop & Shop, Old Navy, CVS, Price Choppers, Marshalls, Walgreens, Michaels, Barnes & Nobles. Other gift cards are also welcome.
You can mail your check or gift cards care of Southborough Youth & Family Services, 17 Common Street, Southborough, MA 01772.