A week from tomorrow, the Conservation Commission will "Celebrate" GIS Day 2020.
If you aren't familiar with GIS Day, I'm sure you're not alone. It's not the kind of holiday that will prompt most readers to party. The Southborough Commission is using it as an educational/training day for those who want to learn more about the mapping technology framework. The Commission invites:
Join the Southborough Conservation Commission on November 18th by learning about GIS (Geographic Information System) and it's various applications and uses from the public to private sector to celebrate GIS Day! All levels of knowledge or expertise welcome!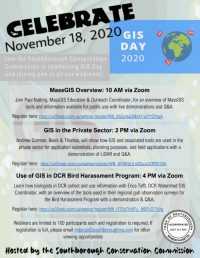 The day will feature four free webinars on GIS, each with demonstrations and Q&A:
Please join us on one or all of our webinars to celebrate just a few ways that we use GIS in our daily lives! GIS can be used by anyone with the multiple tools available for general public consumption. Don't have any knowledge of GIS? No problem! Join us for the first webinar at 10AM and build up your knowledge as the day goes on. Hope to see you there!
Pre-registration is required to participate.
Conservation explains that while each session is capped at 100 registrants, there are additional platforms available for viewing. So, if online registration is full (via links below), email Conservation Agent Melissa Danza at mdanza@southboroughma.com.
Below are the planned sessions with embedded registration links.
Wednesday, November 18th:
10:00 am – MassGIS Overview
Learn about MassGIS from the MassGIS Education & Outreach Coordinator, Paul Nutting, and find out what tools are available to you on an every day basis. This is for anyone curious about using public tools such as OLIVER to create maps, understanding resource areas, census information, and much more. Good for citizens, real estate agents, open space professionals, board and committee members, or general interest! This will be a live demonstration and full of time for questions so join in and lead us on journey through MassGIS.
2:00 pm – GIS in the Private Sector
Join Andrew Gorman, Beals and Thomas, on how GIS is used in the private sector for application submittals, planning purposes, and field applications. Andrew will show how consultants best utilize GIS to help them get accurate information for their projects. A demonstration of the use of LiDAR will also be included to show how some consultants utilize this aspect to help anticipate wetland lines. This webinar would be good for municipal staff, professionals, and interested general public! No expertise needed so feel free to register to learn a little more about aspects of permitting you may not be familiar with or tools that may be helpful in your practice.
4:00 pm – Use of GIS in DCR Bird Harassment Program
Presentation from the DCR GIS Watershed Coordinator, Erica Tefft, and her overview of the use of GIS and associated tools to conduct gull surveys as part of the Bird Harassment Study. Erica will discuss the use of Python scripts, data collection demos, an overview of their Dashboard that shows their collected information, and their ArcGIS Hub site for the Bird Harassment Program. This webinar would be perfect for members of the general public that is interested in what DCR may be up to, professionals that commonly use data collection and Python, or professionals and interested parties of habitat management.
Thursday, November 19
10:00 am – Metropolitan Area Planning Commission
(1) MAPC as a GIS resource for Southborough

(2) Overview of GIS-related services and public-facing resources we provide (MassBuilds, zoning database, TrailMap, suitability analysis)

(3) How to contribute to public-facing resources, spatial datasets
Click here for the Conservation Commission's info page. If you have any questions, email mdanza@southboroughma.com.
Updated (11/17/20 1:58 pm): An extra session was added on for Thursday morning.