While some of Southborough's traditional, seasonal events have been cancelled, St. Mark's Christmas Bazaar is not only going on, it's starting early.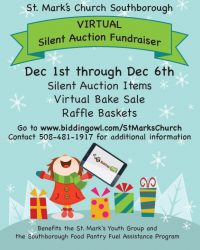 The annual fundraiser supports St. Mark's Episcopal Church's youth group and the Southborough Food Pantry's fuel assistance program.
There won't be in person festivities this year, but some of the popular event components will be offered virtually.
From Tuesday, December 1st through Sunday, December 6th you can take part in the church's Silent Auction, Bake Sale, and Basket Raffle.
Items listed include Antiques and Art, a "Family Fun basket", a Wine basket, pans of brownies, lots of gift certificates and more.
To participate, click this link. Bidding is scheduled to become active tomorrow.