Southborough's Board of Health asked me to alert readers that they have more flu vaccines available. For an appointment and instructions, please call 508-481-3013.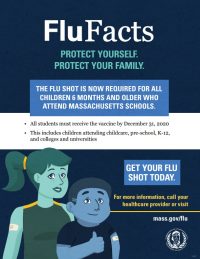 The notice is applicable for all ages. But it reminded me that some readers may not be aware of the requirements for students and babies this year.
All students who attend Massachusetts schools (pre-K through college) are required to receive this season's* flu vaccine by the end of this month. (Although, there are a few exemptions.)
Children in daycare (6 months or older) must also be vaccinated, but their deadlines depend on medical recommendations for their vaccine schedule.
Here are more details from the state's announcement.
Students will be expected to have received a flu vaccine by December 31, 2020 for the 2020-2021 influenza season, unless either a medical or religious exemption is provided. Also exempted are K-12 students who are homeschooled and higher education students who are completely off-campus and engaged in remote learning only. This new flu immunization requirement to enter school in January is in addition to existing vaccine requirements for all those attending child care, preschool, K-12, and colleges and universities in Massachusetts. Elementary and secondary students in districts and schools that are using a remote education model are not exempt.
You can read the full document here. If you have questions/concerns, you can check out the state's dedicated page (or call your healthcare provider).
Parents can either email a copy of their child's immunization record to arhsnurses@nsboro.k12.ma.us, fax it to the office at 508-393-2129 or bring a hard copy of the record to the Nurses office. Please see the attached flyer for details.
*Vaccines received in 2020 prior to July 1st don't count.