Algonquin's annual musical wasn't scrapped this year. As the title promotes, the play will be performed online. The performance will be streamed for free next week on Thursday, December 10th and Friday, December 11th.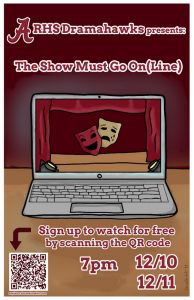 GonkArts posted:
This year's Algonquin Musical is going virtual and inspired the title, THE SHOW MUST GO ON(LINE)! Please support the ARHS Dramahawks by tuning in to our free show December 10 and 11 at 7pm by registering in advance at register.dramahawks.com

The 2020 performance is an eclectic mix of music, dance and monologues that highlight resilience, strength and courage. Over 40 students are involved as actors, singers, dancers, instrumentalists, and tech crew. In these uncertain times, we must find ways to cope, create, and do the things we love. Each piece of the performance is selected because it reflects the many ways humans find to persevere.
Click here to register, or use the QR code in the flyer right.
Updated (12/7/20 3:35): The ARHS Harbinger covered the production plans of the cabaret-like show. You can read more details here.