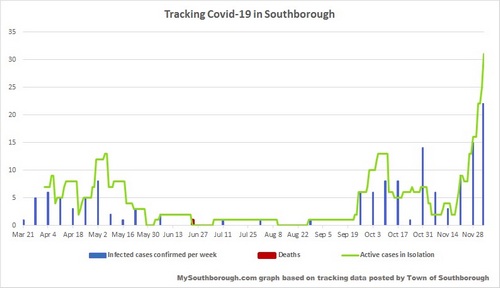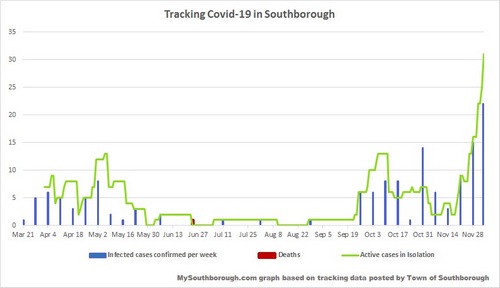 The Town updated its Covid cases this morning with six new patients since yesterday.
On November 28th, the number of active Covid cases in Southborough passed the previous peaks in May and October of 13 cases. Since then, it has continued to climb. There are now over 30 active cases in town. The number of cases confirmed in town since the start of the pandemic is now at 142. Over 35% of those were confirmed in the last 30 days alone.
In the past 14 days, 40 cases have been confirmed, 26 in the last week. New cases again cut across multiple age groups. Below are more of my updated graphs:
The state shifted the Town into the red/high risk category in last night's weekly report. (It is the first time since the state changed its metrics in early November to significantly increase the number of cases in town required to trigger the label.)
The new designation appears to be based on 35 positive results from tests taken between November 15th -28th. Framingham is still designated red. All of our town's other direct neighbors are classified yellow. That includes Northborough, our school district partner, even though their numbers seem worse.
Southborough's Average Daily Incidence Rate per 100,000 was 24.4 vs Northborough's 33.2. (In fact, all of our direct neighbors have a higher Daily Incidence Rate than us.) Northborough had 76 cases confirmed in the past two weeks. 82 cases are listed as active in the town as of yesterday afternoon. But Northborough's population puts it in a different metrics category for how MassDPH calculates risk.
This week's updates from the district indicates five students/staff across NSBORO schools were tested positive since the last Dashboard update on Sunday. There have still been no cases linked to in-person contact in the schools.
Restored (12/11/20 8:27 am): Somehow, I accidentally deleted this story. (I have no idea how and I'm not sure when. I discovered it was missing this morning and restored it.)