A Southborough family made the local newspaper this week for its extravagant outdoor Christmas display. It prompted me to look for other information on displays in and around town to share. (After all, driving around to see holiday lights is one of the few annual traditions that Covid safety doesn't interfere with.)
Pine Hill Road "massive Christmas lights display"
The Metrowest Daily News covered a family that has covered its Southborough home and lawn in Christmas glory.
The display is described as including one of Santa's old sleighs from the 1800s, 14 foot wooden soldiers from the former Shopper's World mall, giant snowmen, and much more. The story explains that John Mansfield and his family moved to town 6 years ago. He brought with him his Irish family's tradition of brightening the dark nights of winter. This year, he added 100 rolls of 66-foot-long Christmas lights to hang along other LED lights.
Click here to read the full story with photos (or click the Facebook post below).
Local efforts to map lighting joy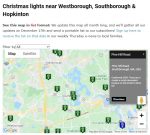 Community Kangaroo is putting together a map of "outstanding" light displays in the vicinity of Westborough, Southborough, and Hopkinton. They are asking the community to provide them with tips and hope to have a "final" list by December 17th that subscribers can receive.
In the meantime, a map in progress is available to view and already includes several locations in Southborough. (Pine Hill Road is described as having a couple of displays worth checking out.)
To participate, sign up for their newsletter, or check out the map, click here.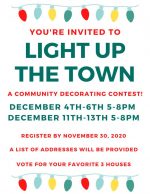 The map extends beyond the border of the three mentioned towns. As of this morning, only one display was listed in neighboring Northborough, but there are a whole slew more than that inviting the public to check them out.
The Northborough Community Affairs Committee is promoting a community decorating contest. They are inviting Northborough to "Light Up the Town". A google map link and printable checklist are available here.
Two weekends were scheduled. One is past, but the next is this Friday to Sunday (December 11-13) from 5:00 – 8:00 pm. Participants are asked to vote for their three favorite houses.
If you have more news on light displays or Holiday Cheer, post a comment or drop a line to mysouthborough@gmail.com