The Town is seeking to help link up Southborough seniors who need driveways shoveled this winter with volunteers willing to help.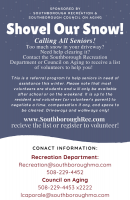 The "Shovel Our Snow" referral program is a partnership of the Council on Aging and the Recreation Department:
The program will connect volunteers in town with Seniors in need of assistance with snow clearing. Seniors can obtain the list by calling the Council on Aging or Recreation Department Directly – or visiting www.SouthboroughRec.com where a list will be posted once available. This is, again, a referral service so residents will be responsible for contacting volunteers, negotiating the time, place, compensation (if any) and area to be cleared. We ask that only driveways and walkways be involved. No elevated surfaces for the safety of all involved.

Masks are to be worn by volunteers at all times. . .

Once a list begins to be compiled of names, it will be posted online and passed along to the Council on Aging for distribution.
Rec is expecting many of the volunteers to be students. That would mean that seniors should expect them to only be available after school or on weekends. (Unlike past years, when the weather is too bad for school buses, students will still be expected to do remote learning from home—unless there is a major power outage in town.)
Organizers are recommending that minor volunteers submit their parents' phone numbers when they register.
All that said, you don't have to be a student to sign up. Any able bodied member of the community 12 years or older is welcome to register.
More potential snow is forecast for mid-week (though the amount is uncertain). So, if you want to help out, sign up soon.
To participate in the program, volunteers can register here.