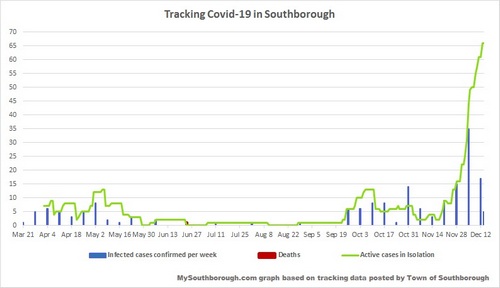 In Southborough, the number of active cases has continued to reach new highs since November 28th. As of yesterday morning, there are 66 active cases in town. The cumulative total of infected residents is now at 177. 57 were confirmed in the last 14 days. (Scroll down for more of my updated charts.)
As I wrote on Friday, Southborough remains in the red and a number of neighboring towns joined us, including Northborough.
Across the Northborough-Southborough Public Schools, 13 new cases cases were confirmed last week. That brings the total of student/staff infected this school year to 80.
The latest Dashboard shows 257 students/staff were in Quarantine or Isolation last week.
As I previously reported, Northborough's Melican School went temporarily remote two weeks ago due to potential in-school contact. Last week, 23 students/staff in Northborough schools were isolated due to positive infections and another 43 were in quarantine due to in-school close contact.
Meanwhile, out of school contact was the cause of 46 Algonquin students/staff in quarantine. (Scroll down for updated graphs of school data.)
On Friday, NSBORO Superintendent Gregory Martineau announced that the administration is pursuing testing of Algonquin students right before winter break. The email explained the purpose is to establish a baseline of the prevalence of the virus in the ARHS student population.
The testing will take place on December 21st and 22nd. A follow up email to Algonquin families clarified that they will be using a PCR COVID-19 test (observed anterior nasal self swab). The program will utilize protocols and procedures the Nursing Team implemented in its testing of district staff. Results from that program have been coming back in about 24 hours.
The testing is optional and will be provided for free (through CARES Act funding.) Interested families are asked to sign up their students by this Wednesday. Registered students will get a follow up email with details on scheduling appointments.
To allow district nursing staff to pool resources, hybrid students across the NSBORO districts will have fully remote learning that week. (Given the schedule and short week, that's just the difference of one or a half day of in-person learning for most students.)
Click the images below to view updated graphs. (Most are mine tracking data posted by the Town and NSBORO district. I also included one of this week's graphs from NSBORO's Dashboard.)