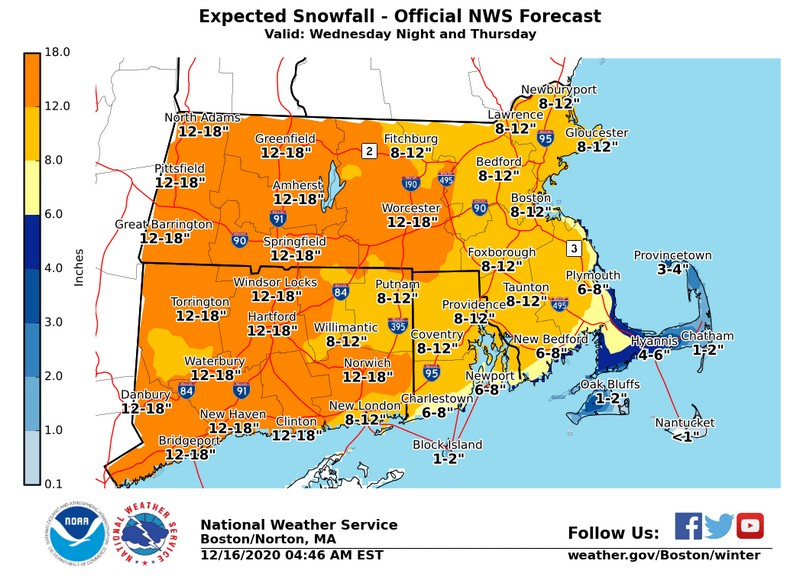 According to Southborough Emergency Management, Southborough is forecast to get 9-17″ of snow, but will most likely see about 13″. Still, the western border of town overlaps the 12-18″ zone of National Weather Services' snowfall map (above) and a communication from the agency notes:
A heavy snow band may form dropping more snow in one location while significantly less snow falls just a few miles away.
That tip is part of the NWS' recently posted "5 Things to Know about Winter Weather Forecasts". Another (fairly evident) tip reminds "Winter forecasts can change frequently". The maps and graph I'm sharing are the most recent issued today.
A message from Southborough Emergency Management states the snow will be powdery, making it much easier to clear. It also points out that it will be easier for the snow to drift both tomorrow and days after the storm leaves. With that in mind, the public is reminded to frequently continue to reevaluate exits and vents for blockage. Plus, we should expect potential whiteouts.
Snow isn't expected until around 7:00 pm and is likely to continued to at least 11:00 am, possibly into the late afternoon/early evening.
NSBORO Superintendent Gregory Martineau issued an announcement this afternoon confirming what I had initially called a safe bet. There will be no in-person school tomorrow, but that doesn't mean a snow day in Southborough K-12 public schools. Thanks to the remote learning setups, school will only be cancelled if there is a widespread power outage. (If that happens, Martineau will issue another call tomorrow morning.)
Parents are instructed to look for emails this afternoon from school principals confirming details of tomorrow's learning schedule.
Below is more data from NWS:
To check for updates, you can check their website or follow them on Facebook and twitter. Here is the full update from SEMA's Lt. Neal Aspesi:
Just in time for last week's snow to melt, it will be replaced with a significant amount more.

As opposed to last week's storm, this one will definitely have cold air solidly in place for all snow in the Southborough area. The cold air will result in powdery type snow which will be much easier to clear but also easy to blow and drift during snowfall and for days following the storm's exit from our area. Winds will be moderate which will increase blowing and drifting. The combination of 1-2″ per hour snowfall rates and wind gusts will create very poor visibility and potentially whiteout conditions at times. Additionally, the overnight temperatures forecasted for Wednesday, Thursday and especially Friday will result in flash & re-freezes of treated surfaces and daytime melted snow.

The forecast for Southborough, as of 12-16-2020 at 1030am, calls for the following. Continue to monitor local weather updates as a slight shift in the storm track (as little as 50 miles) and even a one-degree temperature change could drastically change the type & degree of impacts. Attached also is information from the National Weather Service, Boston… as always, this information if to help with decision making only and not an official forecast.

Snow amounts between 9″-17″ with a most likely amount of 13″
Wind gusts between 25-30 mph
Temperature Lows (before windchill factors): Wed: 20f, Thurs: 20f, Fri: 8f
Snow onset (estimated): 7pm tonight
Snow ending (estimated): 12pm tomorrow

While the potential for power outages will be less than our last system powdery snow comes with its own set of hazardous impacts.

Visibility:

Poor visibility will not only impact driving conditions but those on foot as well. Pedestrians should be hypervigilant while walking, clearing snow, etc. near roadways as drivers may not clearly see them. Wearing bright & reflective clothing and keeping a keen eye on the road will increase your safety.
The potential for poor visibility from blowing and drifting snow will continue for several days after the storm exits. This creates an even higher potential for accidents and injuries as a result of seemingly normal sunny conditions turning blinging white without notice.

Blockage:

In addition to the project high snowfall totals, blowing snow will pile up much higher increasing the threat of blocked egress doors and ground level exhaust vents.
Ensure to clear at least two exit doors from your home/building to ensure you can escape immediately in the event of an emergency.
Ensure to clear all ground level exterior exhaust (and intake) vents around your home/business to prevent failure of equipment and Carbon Monoxide (CO) hazards. As preparedness measures before the snow falls, mark all exterior vent locations so you can easily find them when covered with snow and ensure all smoke and CO alarms are working properly.
The key thing to remember is to frequently continue to reevaluate exits and vents for blockage from continued drifting snow for several days after the storm exits.
Updated (12/16/20 12:45 pm): I highlighted Aspesi's advice to reevaluate exits and vents for blockage.
Updated (12/16/20 1:39 pm): I added the school announcement.