Normally, church pews are packed to (or beyond) capacity for special Christmas Eve Masses and celebrations. Tonight and tomorrow, some Southborough churches will continue to echo as masses are recorded for streaming from empty chambers. Others are allowing in-person attendance with strict capacity limits and pre-registration required.
Below are the details.
Christmas Eve Services
Thursday, December 24, 2020:
St. Anne Parish (website)
Christmas Vigil masses at 4:00 pm & 8:00 pm (View the live stream or click here to pre-register for in-person attendance)
First Community Church (website)*
Services are all virtual these days. Click here for their podcast page to check for the most recent audio streamed service.
Pilgrim Congregational Church (website)
Pageant Service via zoom at 6:30 pm (contact the office for registration details)
Candlelight Service via zoom at 9:00 pm (contact the office for registration details)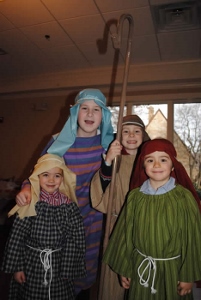 St. Mark's Episcopal Church (website)
3pm Children's Christmas Pageant via Livestream
7pm Candlelit Service via Livestream (Will be available to stream all evening)
Saint Matthew Parish (website)
Chinese Gospel Church of Massachusetts (website)
Christmas Day Services
Friday, December 25, 2020:
St. Anne Parish (website)
Nativity of the Lord masses: 8:30 am & 10:30 am (View the live stream or click here to pre-register for in-person attendance)
St. Mark's Episcopal Church (website)
Christmas Service with Carols at 10:00 am
Saint Matthew Parish (website)
pre-registration was required by yesterday afternoon for Christmas Masses at 7:30 & 10:00 am
Masses will be livestreamed for those not registered