In two weeks, the Southborough Library will be holding another virtual craft session for kids ages 8 and up. This time the focus is making decorative lanterns out of mason jars.
Crafters will "learn basic decoupage skills [using] fabric, tissue paper, old book pages, and even sheet music so patrons can create something one-of-a-kind!"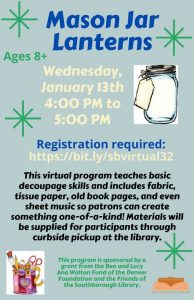 As with all of the Library's events these days, the session will be held virtually. Registration is through Southborough Recreation (here).
The workshop will be held on Wednesday, January 13th from 4:00 – 5:00 pm. Materials will be supplied for registered participants in advance through curbside pickup at the library.
This program is sponsored by a grant from the Ben and Lucy Ana Walton Fund of the Denver Foundation and the Friends of the Southborough Library.
The free session will be run by popular crafter Mandy Roberge. Roberge ran a similar workshop at the Library in 2017. This time, the twist is instead of just decorating the jars to store items, crafters can turn them into lanterns with candles.