Updated (1/15/20 1:47 pm) I just learned that the event is being postponed due to forecasts of heavy rain and high winds.
Stay tuned for a new date.
---
In January 2019, Southborough's Neighbors for Peace held a candlelit Vigil for Peace and Unity. Last year, they announced it would be an annual vigil to start of each new year.
With the pandemic in mind, this year the groups and Neighbors for Peace and Hate Has No Home are sponsoring a different kind of event. This year, the public is invited to use cars instead of candles as the annual Vigil for Peace and Unity is converted into a show of appreciation.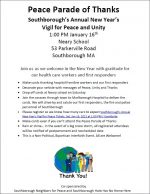 The 2021 event is titled "Peace Parade of Thanks" to be held a week from Saturday:
Join us this as we welcome in the New Year with gratitude for our health care workers and first responders . . .

This is a Non-Political, Bipartisan Interfaith Event. All are Welcome!
The community is invited to sign up to participate in a parade scheduled for Saturday, January 16th at 1:00 pm. Whether joining the parade or not, the community is also invited to make cards thanking front line workers and public safety personnel. (Those can be dropped off at Neary School that day before the parade.)
Parade participants will "drive-by and salute our first responders, the fire and police personnel of Southborough". The caravan of cars will continue on to Marlborough Hospital to thank their essential workers.
The event is planed as rain or shine, but this is winter in New England. If severe weather prompts postponement, registered participants will be notified.
The parade will convene in the Neary School parking lot, 53 Parkerville Road.
Speaking of parades – The community parade organized for former resident and WWII combat veteran Arthur Butler was held as planned this afternoon for his 100th Birthday. (Congratulations Mr. Butler!) New Horizons posted: