St. Matthew's Youth Group is joining the national food drive – the Souper Bowl of Caring. Super Bowl weekend, volunteers will be holding special collections for the Southborough Food Pantry.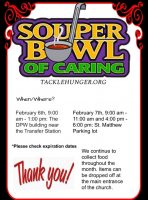 Drives will be held:
Saturday, February 6th from 9:00 am – 1:00 pm at the DPW Building (near the Transfer Station).
Sunday, February 7th from 9:00 – 11:00 am and 4:00 – 6:00 pm in the St. Matthew parking lot
In the leadup, the group will be collecting donations at the St. Matthew's Church drop off location at it's main entrance. (If you are bringing donations directly to the pantry at Pilgrim Church, please remember to use the collection bins by its back door.)
As of January 8th, the most up-to-date needs list the Food Pantry posted can be found here.
However, if you are shopping closer to Super Bowl weekend, be sure to check the pantry's Facebook page to see if there is an updated list here. (And if you are pulling items from your own pantry, please remember to check the expiration date!)
Updated (1/9/20 1:59 pm): I mistakenly indicated that Pilgrim's bins were at the side door. It's the back door.