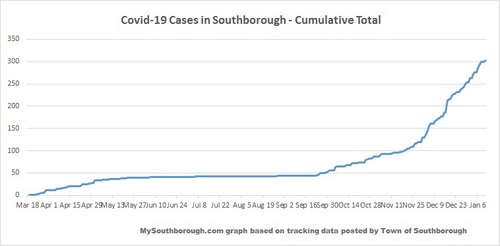 Today, Southborough's confirmed cases of Covid-19 broke 300. Meanwhile, the Northborough and Southborough Public Schools announced that they will soon be launching free weekly testing for all students.
The NSBORO district's latest Covid Dashboard shows that the free testing for Algonquin students last Monday and Tuesday identified 3 students as positive. One of those students was asymptomatic and not quarantined prior to testing. (Fortunately, test results came in prior to the resumption of in-person teaching after break.)
On Friday night, Superintendent Gregory Martineau updated parents:
The results of the NSBORO Covid-19 Screening Program Interest Survey demonstrated that there is a strong interest in families having their children participate in weekly COVID-19 screening.

For the past three months, the District, in partnership with the Medical Advisory Team (MAT), has worked to establish weekly COVID-19 screening for all students, faculty, and staff.

I am pleased to announce that a no-cost COVID-19 PCR weekly screening will be available to all students enrolled in The Public Schools of Northborough and Southborough through the end of the school year.

In the next week, or two, Mary Ellen Duggan, Director of Health and Wellness, the MAT, and I will communicate more detailed information about the program, including the type of COVID-19 test, how it will be administered, and how families can participate.
Covid screening is one of the items on the agenda for Wednesday night's Southborough School Committee meeting.
Sunday night's updated Dashboard shows 26 cases were confirmed in the district last week, 147 over the course of the pandemic. The number of students/staff kept home for isolation/quarantine was 245 last week. In the districts graphs, the administration added categories identifying cases of students in Quarantine of over contact through sports programs.
The schools' data is below, followed by my charts capturing data since the start of school from past announcements.
The Town of Southborough updated its Covid-19 figures as of 8:30 am this morning. 302 cumulative cases are confirmed with 63 cases currently labeled active. As of this morning, 58 cases were confirmed in the past 14 days, 26 of those in the past week.
[Note: To see if the numbers have changed, click here for the Town's information page and here for my Covid-19 in Southborough page.]
Below are my updated graphs:
The state's most recent weekly report showed the Town's Average Daily Incidence Rate per 100,000 as 36.9 (lower than the prior report) and the % of tests confirmed positive as 3.69% (also lower). Last week, Ashland rejoined Marlborough, Framingham and Southborough as in the red.* Other neighboring towns (Northborough, Westborough, and Hopkinton) remained yellow.
*Thursday, I accidentally referred to the prior week's report.