The Southborough Library is bringing back a special virtual club for young writers. This time, they are expanding the age group to allow writers ages 9 and up. The Writing Club will meet over zoom on Fridays at 3:00 pm throughout February. (There are also series scheduled for the months of April and June.)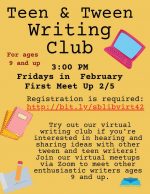 The free program is led by Library staff member Marianna Sorenson over zoom.
Prior to the fall session, she explained:
Southborough Library is offering Virtual Writing Club for Tweens and Teens again. . . Meetups will last an hour. Attendees get fun prompts to spark some writing ideas and share their work in a relaxed environment. Access to a computer and internet are necessary, but attendees can type on computers or write on paper.

Our summer meetups resulted in some great works covering everything from lost socks to rock climbing, haunted houses and carnivals, sage advice, and living in Covid 19. We would love to find out what else people can come up with! All comfort levels in writing are welcome.
Registration for the upcoming sessions are through Southborough Recreation here. Rec's description includes a new option:
You can also learn how you [can] participate in the library's new youth/senior penpal program.
The write up also encourages:
Join anytime! New members are always welcome.