It's time for another roundup of news related to businesses in Southborough. This time I'm including a real estate deal that's for a residential project.
Hospitality Insurance Group's 'Pay as You Pour' Program – company press release
This month, the Southborough based insurance group for the hospitality industry launched a flexible premium option for insurance covering liquor liability. Given reduced bar tabs during the pandemic (especially in the colder weather), clients can pay premiums based on how much they "pour".
New Liquor Liability Financing Will Help Seasonal Businesses with Cash Flow

Hospitality Insurance Group is launching a new program that will give bars, restaurants, and any other eligible liquor liability policyholders more flexibility in how they pay their insurance premiums.

The Pay as You Pour program, offered in partnership with First Insurance Funding, will help businesses improve their cash flow by basing their bimonthly premium payments on how much liquor they sell. Premium payments will be lower when sales are down and, conversely, when sales volume is higher, businesses will be contributing more to premium payments. The program comes as many in the hospitality industry face a winter slowdown in business, particularly amid the ongoing COVID-19 pandemic. (read more)
Southborough tech firm expanding to new offices with $1.1M purchase – Worcester Business Journal
A month ago, WBJ covered Trivedi Advanced Technologies's expansion in town. (The company already followed through on its touted plans to add jobs by promoting technician positions through the blog two weeks ago.)
The Southborough firm Trivedi Advanced Technologies is moving into a far larger office about two and a half miles away as part of an ambitious growth plan.

Trivedi paid just over $1.1 million for a new building on Route 9 in town to move its offices, according to Aho Properties, which represented the buyer.

In addition to its Southborough headquarters, Trivedi has offices in San Jose, Calif., Toronto and India. Its Southborough headquarters will balloon in size from 2,500 square feet to more than 12,000 at the new location at 200 Turnpike Road.

Trivedi has 78 local employees now, with plans to add 10 more in the short term, as it'll move into the new offices in the coming few months. It'll have room for far more, as the company expects cloud computing, automation and information technology to continue as a growing industry, particularly in health care with devices collecting patients' vital signs and sending them to cloud-based monitoring systems. (read more)
Block MEMS Receives Tibbetts Award from the U.S. Small Business Administration – SBA and company press releases
Two weeks ago, the Small Business Administration announced this year's winners "of the prestigious Tibbetts Award for their accomplishments in creating cutting-edge technologies." The winners included Southborough based Block MEMS.
The awards, named after Roland Tibbetts, the founder of the SBA's Small Business Innovation Research Program (SBIR), honors these awardees for the exceptional successes they achieved through SBA's SBIR and Small Business Technology Transfer programs. Block MEMS touted that the award was for:
technological achievements and commercial success involving its laser-based chemical detection systems. Block's products are used to protect people from chemical threats at distances of hundreds of meters away. . .

Daniel J. Cavicchio, Jr., CEO of Block, added, "This all started with a Phase 1 SBIR to develop a laser spectrometer. Following success with Phase 1 and 2 SBIRs, Block went on to receive over $30 million from US government agencies to develop new chemical detection technology. For example, we are currently working with the Department of Homeland Security on parcel screening technology to detect contraband. Block appreciates the recognition by the Small Business Administration." (read more)
Marlborough site, approved for 475 units, sells for $14M – Worcester Business Journal
This real estate deal wasn't just in a neighboring town. About 10% of the parcel (6.3 acres) is on the Southborough side of the border, Northeast of Northborough Road. (You can find it on the Town's map here, designated as 70-3 and 70-3-A.)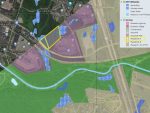 The WBJ story describes the Southborough parcel as industrially zoned. But in looking for the details on the parcel, I discovered that's incorrect. Although the Southborough section is surrounded by industrial zone, it is currently zoned as "Residential A".
Over the summer, the prior owner received approval to split the Southborough section into its own parcel. Based on the Planning Board minutes, it appears that parcel is not being incorporated into the 475 unit housing development. (At the time it was described as mostly wetland.)
You can read the WBJ post here:
A site on Simarano Drive in Marlborough that's been approved for 475 units of housing has been bought by developers for more than $14 million. . .

Construction is slated to start in the first half of the year, according to Rockpoint Group, with the first two of five phases approved for 475 units. . .

The undeveloped site spans 43 acres in Marlborough and another six acres in Southborough immediately off an interchange on I-495 next to three of Marlborough's biggest corporate tenants: TJX Cos., Hologic, Ken's Foods and IPG Photonics. . A six-acre portion of the site in Southborough, where the land is zoned for industrial use, was last assessed by the Town of Southborough at $48,800. (read more)