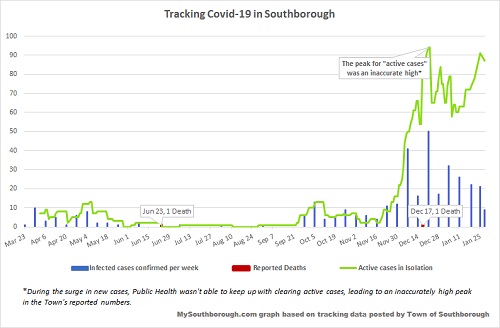 With updated Covid data from the state and the Town, it's time for a quick update.
The Town's Covid-19 page was updated today with data as of 7:30 pm last night, January 28th. As of the update, 52 cases were confirmed in the prior 14 days, 26 of those in the prior 7 days.
The Town's cumulative total over the course of the pandemic was increased by nine since Monday's figures, bringing it to 354 cases with 87 cases currently labeled active.* [Note: The age demographics included an apparent data correction with the 30 year old group going down by one patient since Monday.]
For detailed data tracking Southborough's stats, click on graphs above and below.
Yesterday evening, the Mass Dept of Public Health issued its weekly report based on tests taken during the 14 days ending January 23rd. The report lists our Town's Average Daily Incidence Rate per 100,000 as 28.1 (lower than the prior report) and the % of tests confirmed positive as l.72% (lower).
The state announced that the number of high risk communities dropped, but we're not among them. Southborough remains in red along with Marlborough and Framingham. Ashland was shifted back into yellow with Northborough, Hopkinton, and Westborough.
There have been more cases reported in NSBORO schools, but still none I've heard of in Southborough or Algonquin as related to in-school transmission. (The schools' weekly Dashboard is updated on Sundays, so I won't have updated figures to share until Monday.)
*Based on past issues, the number of active cases may be artificially high with staff not able to keep up with officially clearing cases of patients no longer in isolation.