There's great news out of Southborough Youth & Family Services. Southborough residents should now have an easier time getting needed mental health support.
A referral services contract for 2021 was made possible through the generosity of the Southborough Community Fund.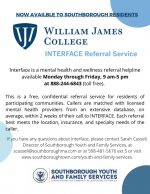 The service is available to anyone who lives in Southborough. INTERFACE Referral Service is a free, confidential:
mental health and wellness referral helpline available Monday through Friday, 9 am-5 pm, at 888-244-6843 (toll free). . .

[Callers] are matched with licensed mental health providers from our extensive database, on average, within 2 weeks of their call to INTERFACE. Each referral best meets the location, insurance, and specialty needs of the caller.
Up until now, SYFS has assisted residents in trying to connect with specialists. The new service should have a quicker turnaround. In addition, it will free up SYFS staff to focus on other responsibilities and services.*
SYFS shared a pdf explaining "What to Expect" when you contact Interface. You can read that here.
You can learn more about Interface here. Anyone who has questions/concerns can contact Director of Southborough Youth and Family Services Sarah Cassell at scassell@southboroughma.com or at 508-481-5676 ext 5.
*In a fall update to selectmen earlier this winter, Cassell explained that when SYFS staff work on helping residents find the right providers that take individuals' insurance it can be time consuming. Interface not only has more expertise due to its focus, but because of its large network of customers, providers tend to be more responsive to their outreach. Cassell noted that many communities already use the service including Westborough, Northborough, Hopkinton and Holliston. Interface has a database of "over 9,000 licensed and vetted providers located throughout the state.