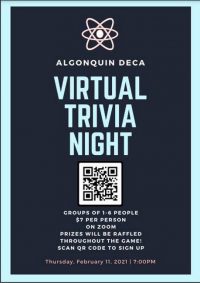 The Algonquin chapter of DECA is holding a Virtual Trivia Night this Thursday.
The fundraiser invites participants to sign up at the cost of $7 per person. Teams can organize with up to 6 members.
According to the club's promotions, there will be giveaways and small prizes will be raffled through the night.
The event will be held Thursday, February 11th from 7:00 – 9:00 pm. Register in advance to get the zoom link. (You can click here or scan the QR code.)
As for the cause being supported, DECA is described as:
a club that prepares emerging business leaders and entrepreneurs for careers in marketing, finance, hospitality and management. Members participate at conferences and competitions.
You can follow the Algonquin club on instagram, here.